Your pet is in good hands with us! Let your favorite get the best care in our center.
We use a big range of shampoos for all different coat types and breeds.
Our team of pet hair stylists is happy to make your animal look pretty and happy.
Bathing in our vet bath, using an appropriate shampoo that is kind to pet's skin.
Why It Cost More to get Your Pet Groomed Than your own Hair Cut…
Your hairdresser doesn't wash and clean your rear end.
You don't go eight weeks without washing or brushing your hair.
Your hairdresser doesn't give you a sanitary trim.
Your hairdresser doesn't clean your ears.
Your hair dresser doesn't remove the boogies from your eyes.
You sit still for your hairdresser.
Your haircut doesn't include a manicure or pedicure.
Your hairdresser only washes and cuts the hair on your head.
You don't bite or scratch your hairdresser.
The likelihood of you pooping on the hairdresser is pretty slim.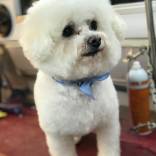 Grooming service for a small dog include bathing, ear cleaning and grooming.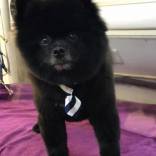 Our full groom package includes: bath, dry with styling and nail clipping.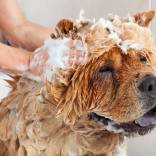 Our service for a large dog include nail trim, cleaning, haircut and blow dry.
Prices based on your Companions Breed/Coat
It determines a basic price on the level of grooming care required for your breed.
We can only give you an estimate over the phone/via text.
Unfortunately it's not a one-size-fits all service.
Some companions require special grooming needs given their different coats/cuts.
A Service/Time fee may be added depending on the age, temperament, condition of coat and/or the last time your companion was groomed professionally. 
All inclusive includes the following: Eyes, ears, nails/pads, sanitary trim, oral care/brushing and/or gel, blueberry facial, double bathe/condition. We use all natural products. Blow out coat/furminate/trim down to your desire or what your breed best represents. We finish w/ bows, bandanna/necktie and/or doggy cologne.
We offer weekend appointments and evening hours. We come to you! 
Benefits for your pet…
Convenient and Private! They don't have to leave your property, just walk to the driveway. Insured and certified (we can groom while your away.) Less stress for your pet. They will be started and finished immediately, no waiting in a crate. They will have no intimidating contact with other dogs. For those pets who don't like car rides, this is perfect! Great for older or nervous dogs. They will get one-on-one attention from your groomer.
Benefits for you…
You don't have to leave your home. You don't have to make arrangements to drop off or pick up your pet You don't have to be home: we can come while you are at work. No wasting gas to get your pet  to and from the groomer.
References available upon request.  
Cancellation Fee Policy: 48 hour notice is required due to the nature of mobile grooming.$50 cancellation fee applies without proper notice before 48 hours. Ex.) If there is a cancellation the day or hour before your grooming appointment, there will be a charge for the full price of the grooming appointment. Any violations to the cancellation fee policy will remove your companions ability to book appointments in the future. 
Prices and/or services offered are subject to change at anytime without notice. We do not offer price protection or retroactive discounts or refunds for previous purchases in the event of a price reduction or promotional offering.